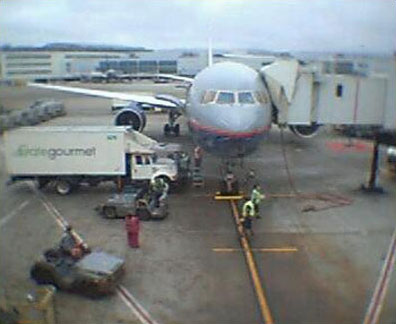 Our plane cut through dense cloud cover above San Francisco and touched down five minutes early. The connecting flight to Chicago was scheduled to board in less than an hour, at 8:20 in the morning. We rushed to the gate.
Before then I'd only heard about the fog in San Francisco. But through the windows of the terminal I saw it conceal the tops of the surrounding hills. By the time we left I would see those tree-spotted crests. For this opportunity I thank the woman who drove a truck into our airplane.
Already an hour late, the 767 pulled to the gate from maintenance. A customer service representative recommended the airport's restrooms to us. Half of the eight on-board facilities were functioning. Faulty restrooms caused our first delay.
The second and decisive delay came minutes afterwards, when the foot of a stout hispanic woman depressed the gas pedal of the catering truck that would supply the flight its store of $10 (cash only) Au Bon Pain sandwiches, sending the truck over the tire block and into the fusilage.
A half hour of finger-pointing, bulb-flashing, and spells of noiseless yelling passed. The plane wheeled back the way it came, and we sat staring out the windows until 11:30, three hours late.