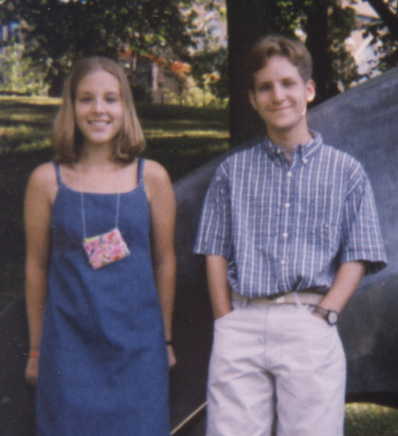 This photograph of my sister Amanda and myself, taken several years ago at Leadership Lab, sheds some light on her character.
I was socially inept and desperate for romance and friendship and arrived each year hopeful my longing would be fulfilled. Amanda spotted me brooding after Friday's formal dinner and rushed my way, insistent upon having this photo taken. I acquiesced. For a second photo she put her arm around me.
Upon viewing the picture, someone suggested that she waa telling me I wasn't alone. I have been too shy and self-absorbed to recognize her insight, maturity, and love.
In listening to family and her friends, and in pictures — where, like here, she is almost always smiling — I've learned more about Amanda than during her life.
On Thursday, September 4, she was struck by an SUV on her way to work, and died around 3:00 Friday. One week later, and one day after her burial, I somehow still expect to see her home from school.