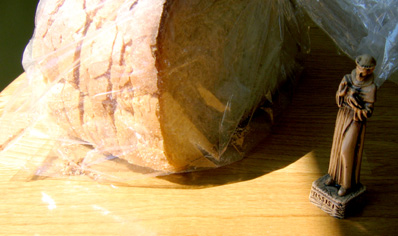 What impressed me most about the Italians was their indifference. Grocery clerks wouldn't smile; waiters made no attempt to win my approval or ensure my return. With the exception of the Poor Clare who brought me vegetable soup while the rest ate chicken, no one of them put himself out for my pleasure or comfort, or pretended to care. I was elated.
American businesses spend millions to convince me they care. Days after I was accosted by displays in the checkout line of my usual grocery, I found this on a job board:
Emotional appeals at every step — celebrity endorsements, product samples, storewide announcements, two-for-ones, three-for-twos — and then you have to fight the lure of this bloody screen, by now too numb to be appalled. The clerk flashes an imposed grin and recites, "How are you do you have your Preferred Card?" I return my proud, emphatic "No."
I've found a new store. Joseph's fills the old Eagle building (and parking lot) with fragrance: ripe produce, garlic roasting in pizza ovens, fresh bread. Labels read in Spanish, Polish, and Italian. No savings card, no TVs, and the employees are too busy to ask if I'm "finding everything okay?" I hope it stays that way.
This morning I spread jelly on a slice of Italian bread from Joseph's, made with only four ingredients (flour, water, cake yeast, and salt) as tough and bitter as the Italians I admire. It requires teeth, not yielding itself to my lips and tongue. It is not sweet. This is damn good bread.