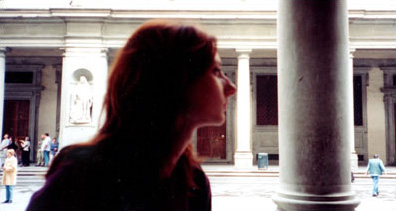 One year ago I was in Italy. My journal begins April 23 in Rome with a visit to Santa Maria della Vittoria:
Known for avoiding photographs and hiding in those he cannot avoid, Collin brought no camera. Well, what will you do? someone asked. Remember. Try it. Jenn brought two — an APS and a nice one — and outside San Biagio, others (like myself) sliding our film to panoramic for the hazy vineyards, she quick snapped his portrait:
After examining my available film I resolved to shoot only unfamous things: not Trevi Fountain but the angel bound to a nearby building, for instance. Alright, I caught a few at the Colosseum and outside the Forum, as well as St. Peter's. And yes, I took one of that still leaning tower of Pisa while she caught the more interesting stablizing device near the restrooms.
The situation was no better in Florence, with something beautiful and significant at each step. I stayed two blocks from Ognissanti, passing several times a day the white, yellow, and blue Della Robbia relief above the entrance. I watched swans feeding near a sandbank in the Arno — right there in the open air, not in some exhibit. There were an overwhelming number of sights to photograph, so much that sometimes I put my camera away in frustration and other times wasted film.
As we waited to enter the Uffizi I wasted one such frame on a rather insistent notice:
I asked Jenn to hold my place while I wandered the grounds. I wanted a statue: Michelangelo, Vespucci, Machiavelli, finally settling on Petrarch. She did not notice when I returned that my lens pointed at her.